Published: 7th August 2020
Dundee United Football Club is delighted to announce that our latest group of aspiring graduates from Our Academy have put pen to paper on their first full-time professional contracts this week.
Four fresh faces - Fin Malcolm, Miller Thomson, Sam Lovie and Dom Naglik - have signed two-year deals with the Club to continue their development under the coaching staff of our Elite Academy.
Academy Director Andy Goldie said: "We are delighted to reward a further four of Our Academy graduates with full-time contracts having continued to impress within our Under-16 and Under-18 squads last season.
"It's an exciting time for all players in Our Academy having seen Lewis Neilson and Chris Mochrie make their debuts since signing full-time last summer. In addition to that Kai Fotheringham, Archie Meekison and Darren Watson have all been involved in the first team in their first year as young professional players so they can see the pathway and opportunity is here for them if they are ambitious and willing to work hard for it.
"Fin, Sam, Miller and Dom have all demonstrated the qualities we demand from our young players and there's no reason why they can't earn the same rewards as last year's graduates if they too are relentless in achieving their dream.
"All four are exciting additions to our squad for our first season in the Club Academy Scotland 'Elite' Under 18 League but they know this milestone doesn't guarantee them anything and that they must continue to impress to earn further opportunities."
Get to know the players:
Fin Malcolm
D.O.B: 04/02/2004
Position: Forward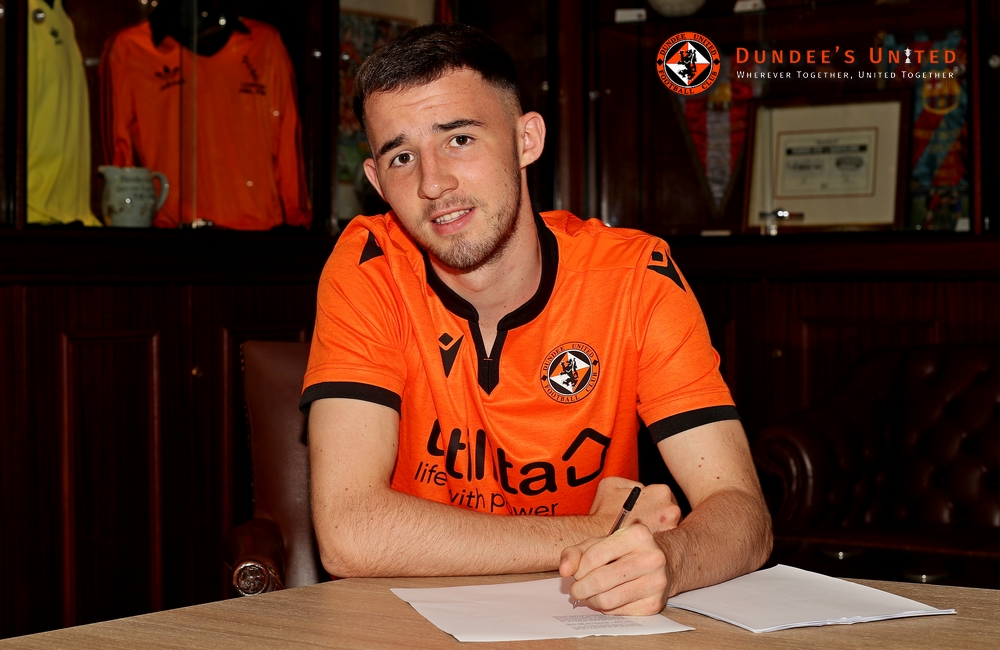 Fin joined the academy in 2016 from Forth Valley after being at boys club Syngenta Juveniles. He currently plays for the Scotland National team at Under-16 level, most recently involved in a challenge match vs Australia. Fin most recently graduated from SFA Performance School at Graeme High. Fin is an intelligent striker who has consistently topped the goal scoring charts throughout his years at the academy so far.
"It feels amazing to finally sign my first professional contract," said Fin. "I'm a striker who likes to hold the ball up and score goals. I'm a bit of a target man so I can bully the opposition as well as getting into the box, scoring goals is always my main objective.
"For me, my goal is to get into the first team and that is what the coaching staff in the Academy have said I should be aiming for. Firstly, I have to be scoring regularly for the Under-18s, then make my way into the Reserves and continue to impress before, hopefully, getting into the first team."
Miller Thomson
D.O.B: 20/07/2004
Position: Winger/Attacking Midfielder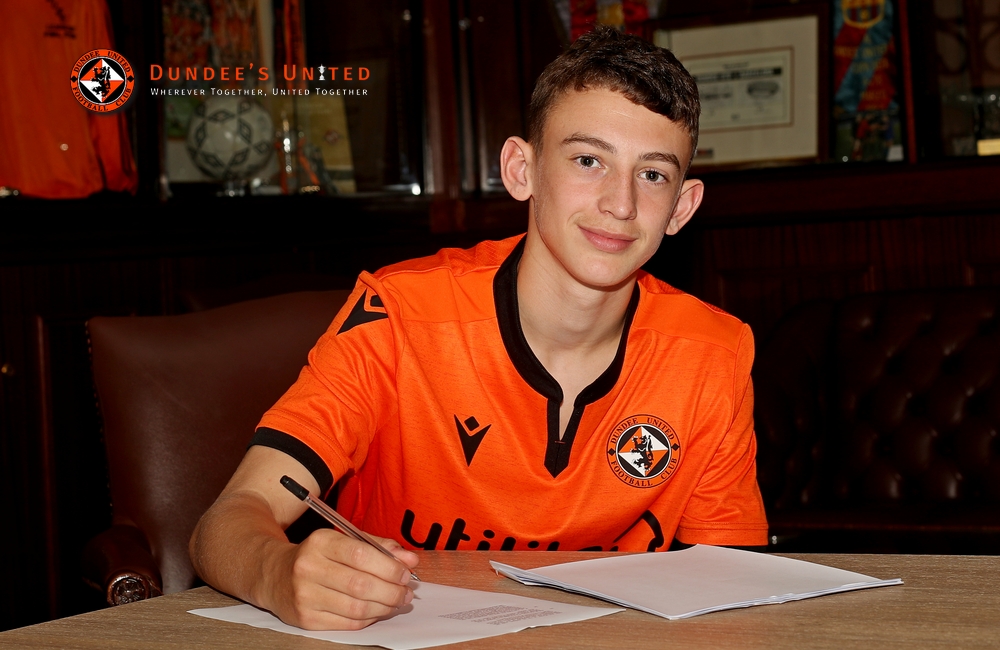 Miller joined the academy aged 11 from East fife. Miller is a graduate of the SFA Performance School at St John's High school. Miller is predominantly a wide player it's the ability to beat his direct opponent with a variety of 1v1 skills.
Miller said: "I've been here for five years and it's always been my goal to sign full-time so I'm delighted to get it done. I'm a player who likes to get on the ball, run at the opposition and get in behind and score goals to contribute for the team.
"Over the next few years, I want to break into the starting eleven of the Under-18s and kick on from there by scoring goals. After that, I want to step up to the Reserves with the eventual goal being the first team."
Sam Lovie
D.O.B: 26/03/2004
Position: Defender
Sam recently joined the Academy from Rangers in February 2020 after starting out at Currie Star. After overcoming a serious ankle injury, sam proved his fitness and quality to earn a professional contract. Sam is a graduate from SFA Performance School at Broughton High School. Sam has a great range of passing and crossing from wide areas and contributes to a high volume of attacks from left-back.
Sam said: "I knew when I came here that this is where I wanted to improve and develop as a player. I've felt in the short time I've been here that the coaches want to help me and give me all the details on how to improve my game as a left-back. Hopefully, I can keep on improving and be the best I can be.
"I love to put crosses in the box and make overlaps down the wings, but I'm also good at the defending side as well. I just like to try and help the team as much as possible with assists and chipping in with a goal once in a while."
Dom Naglik
D.O.B: 14/03/2004
Position: Forward
Dom joined the academy from Brechin in 2017 after starting out at Forfar Boys Club. Dom leads the line for the u16s last season contributing to a high number of goals and assists. Dom was previously involved in national camps with Poland U15. Dom is a powerful runner and looks to disrupt opposition defences creating chances for himself and teammates.
"It's a great feeling to be at a club like Dundee United who helps you to develop a lot as a player," said Dom. "I'm a striker who likes to score goals by getting in behind the opposition defence. The coaches have been fantastic the entire time I've been here and watched over my development so far, they always help you to be the best player you can be.
"My goal right now is to just keep building on where I am right now as a player by getting into the starting eleven of the Under-18s and trying my best every day in training to become a better player."
We are also pleased to announce that 17-year old Jacob Comerford also officially joined our Under 18 squad from Hutchison Vale Boys Club. Having had his trial spell curtailed due to the current Coronavirus pandemic, Jacob has initially signed on an amateur with the view to earning a full-time contract this season.
Andy Goldie added: "We are also delighted to welcome Jacob Comerford in from Hutchison Vale Boys Club with the view of offering him a full-time contract in the future.
"He is another product of the well renowned Hutchison Vale programme, Declan Glass being another, and we thank Tam Smith for his ongoing support and partnership with Our Academy."
Jacob Comerford
D.O.B: 22/02/04
Position: Central Defender/Midfielder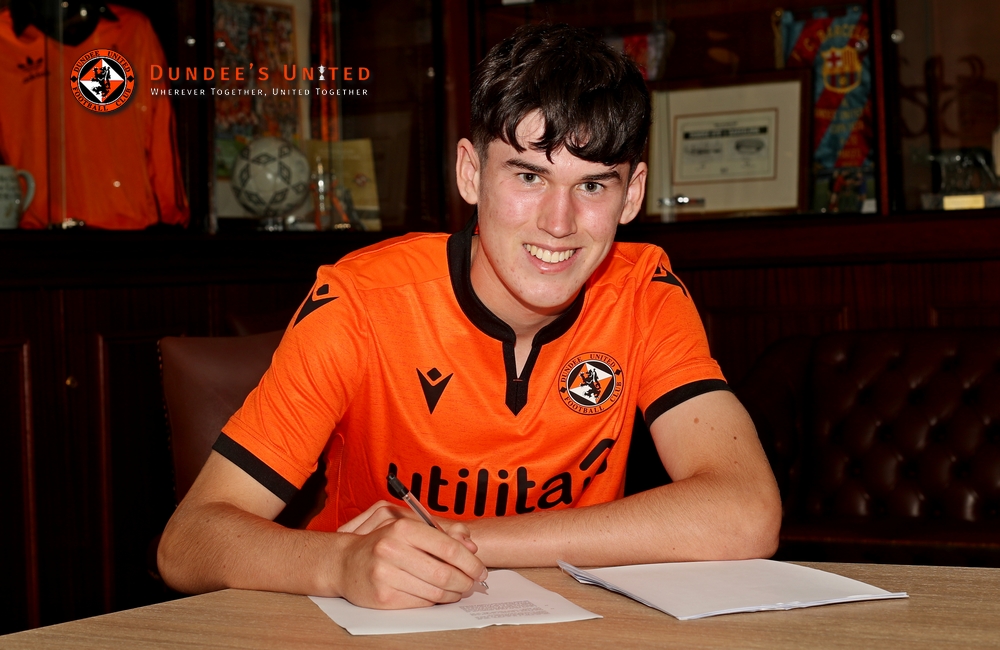 Jacob said: "I've been on trial for a while but with the massive amount of time off I'm just delighted to get back in training with the rest of the boys. I'm still here trying to prove myself to all the coaches so the main thing is showing them what I can do out on the pitch.
"I've seen that there is a clear pathway for young players into the first team so that is why I wanted to come to Dundee United. The coaches are all so enthusiastic, you can hear them in every training session encouraging the boys to get the best out of them I think that is brilliant."
*please be advised the main picture is a photoshop collage and not a group picture, underlining the Clubs compliance with social distancing.