Published: 20th June 2018
The Scottish Football Memories Project today officially presented football memory boxes to both Dundee United FC and Dundee FC to support the reminiscence work at Tannadice and Dens Park. The presentation, conducted by Richard McBrearty, Project Director of Football Memories Scotland and Michael White, Football Memories Scotland Project Training Co-ordinator, took place as part of a North East Scotland regional Football Memories Conference held at Tannadice.
The Dundee United memory box was presented to Amanda Kopel in honour of her late husband and Club legend Frank Kopel whilst the Dundee FC memory box was received by Gordon Wallace, Dundee legend and volunteer with the project. Also in attendance, alongside volunteers driving the local groups, were Dundee United Chairman Mike Martin and Dundee United Community Trust (DUCT) Chairman David Dorward as well as Dundee FC Director and Community Trust CEO Steve Martin.
Designed to stir the powers of recall, a football memory box typically includes an old football, an old pair of football boots, a replica vintage Scotland football shirt, a lion rampant flag, a tartan tammy, an old football rattle, carbolic soap and a jar of Bovril amongst other fantastic objects.
The Football Memories Project is initially targeting the creation of 50 memory boxes which will ensure that all 35 senior clubs who currently host football memories groups will receive a box. Furthermore, organisations such as supporters' groups and Rotary clubs are being encouraged to donate £250 to create a football memory box in the name of their organisation or an individual.
The Football Memories Project is a partnership between Alzheimer Scotland and the Scottish Football Museum. The project was originated and launched three years ago and trains volunteers to spend time with people with dementia who have an interest in football to talk about teams and matches from the past whilst working with images and tangible memorabilia to stimulate memories.
Richard McBrearty said, "We are delighted to bring two of the boxes to Dundee where they will be a community resource for many years to come. The Frank Kopel box includes a replica of Frank's first contract with Dundee United - he was the first signing made by Jim McLean. The boxes will be used by the local volunteer network at their local reminiscence groups at Tannadice, Dens and St Aidan's in Broughty Ferry. The local groups are looking forward to engaging with service users and fans to find out what they should add to customise them".
Dundee United Chairman Mike Martin said, "Football Memories is making such a positive contribution to people living with dementia as well as to mental health and social inclusion generally. It is a wonderful project with powerful outcomes and Dundee United has been a strong supporter from the outset. In fact, I am proud to say, the football memories initiative at Dundee United was founded more than five years ago and as such predates the official formation of the Scottish Football Memories Project."
DUCT Chairman David Dorward added, "There is excellent reminiscence work going on here at Dundee United, over at Dens as well as in the wider community and we are very much indebted to the volunteers who are delivering the project with such passion. The memory boxes are a hugely beneficial resource and have the power to unlock memories to help people with dementia be themselves again; which is wonderful not only for them but also for their loved ones."
Dundee FC Director and Community Trust CEO Steve Martin, said: "We are delighted that Football Memories Project have recognised the pioneering reminiscence work taking place in Dundee. These boxes will enable more people with dementia to benefit from the power of community-based reminiscence which has the ability to greatly enhance the quality of life of people with dementia or memory-based conditions and that of their families and friends."
Amanda Kopel, widow of the former Dundee United player, said, "I am delighted to support the excellent work being done in Dundee by the Football Memories Project. Dementia affects many people across all of society, which is reflected in football, including my own husband, many dear friends and former footballers who are either living with it or having succumbed to it".
The Tannadice conference was also an opportunity for the project's local volunteers to be pictured with the National Award which the Football Memories Volunteer Network recently won at the Museums and Heritage Awards show in London.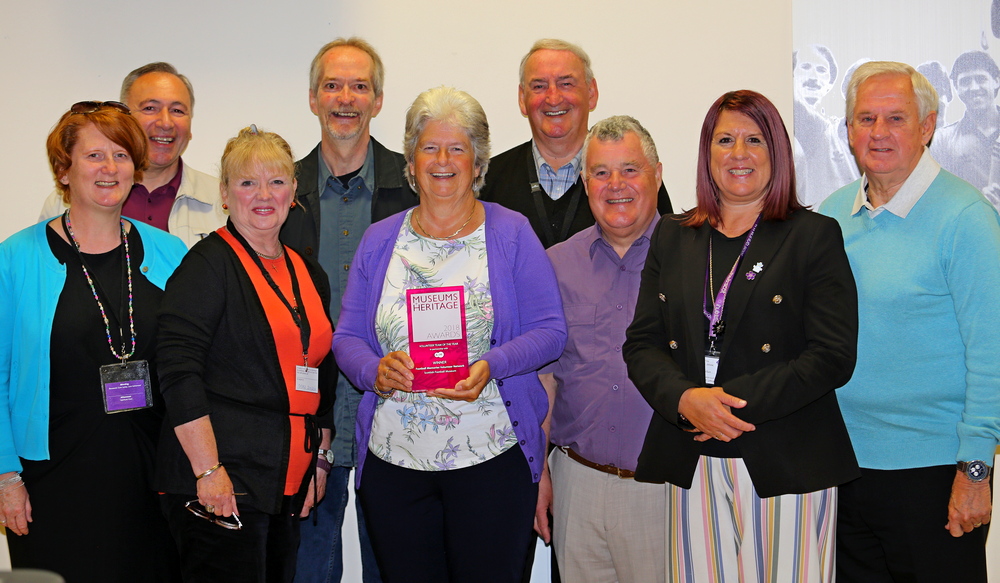 Pictured are, left to right, at the back: Mike Barile, Les Mackay, Bobby Brown, and at the front Jeni Sinclair (Alzheimer Scotland) Molly Laidlaw, Maureen Phillips, George Laidlaw, Wendy Rankin (Alzheimer Scotland) and Gordon Wallace.
The undernoted football memories meetings take place monthly in Dundee:
Tannadice
Third Wednesday of the month, 2pm - 3.30pm
Dundee United Football Club, Tannadice Football Stadium, Tannadice Street, DD3 7JW
Entrance via Main Reception.
Dens Park
Second Tuesday of the month, 2pm - 3.30pm
Dundee Football Club, Dens Park Stadium Sandeman Street, DD3 7JY
Entrance on the street via Main Entrance
St Aidan's Centre
Last Tuesday of the month, 11am- 12.30pm
St Aidan's Centre, 408 Brook Street, Broughty Ferry, DD5 2EB
These meetings are designed to share football memories around Dundee United, Dundee, Scottish football and international matches. They also feature other sporting memories, world events and movie memories together with a complimentary refreshment on arrival and sometimes a Bovril or half-time pie! The meetings are there to be enjoyed by anyone living with dementia or experiencing difficulties with their memory, including their families and friends. All are welcome; people who cannot attend independently should come with a companion who can provide support and transport.
For further information or to book a place please contact Alzheimer Scotland Dundee Services at 9 Morgan Street, Dundee, DD4 6QE on 01382 210200.